Word count: 750
Sometime after I installed Kitty, I noticed a weird grey shadow under the links on my ever-so-cool splash page. Today as I was surfing the mac blogs (through NetNewsWire, of course) I discovered that Safari 1.1 (the version that shipped with Panther) is the only browser that supports the CSS text-shadow property. My shadows were set to silver because silver was the color in the code for the confetti menu my splash page is based on. Since I couldn't see the shadows when I was designing the page, I didn't know what color to use instead of silver - I just left it there.
So I tweaked the menu a bit - basically, I took the background color of the page, subtracted #222222 from it to darken it, and fixed some other little problems. Also, Jerie and I went on a Stargate font hunt, so I got my Stargate A font back (it's available at Shrine of Isis - Fonts). Since chances are you aren't running Panther, you can click on the thumbnail below to see just how cool the kittified page looks in a real browser.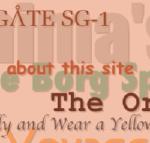 I also saw a couple of cool color generators in my travels: ColorMatch 5k and ColorMatch Remix. Go slide the sliders - they're addictive.